We did a recent winery tour to Finca Rio Negro, in Cogolludo, Guadalajara, Spain. This beautiful vineyard is located at 1,000 meters altitude within the region of Castilla-La Mancha. 
We were guided by José Manuel Fuentes Rodríguez, the founder of the winery and enjoyed a really informative and sense-enhanced winery visit.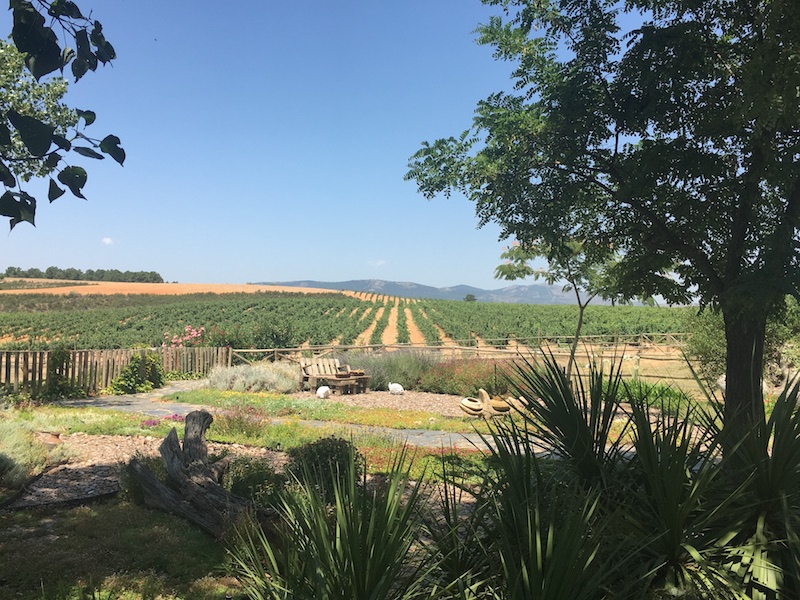 A privileged terroir with altitude to grow Tempranillo
We began the winery tour within the cellar where his founder explained why he made the choice of planting vines in this specific location. The main reason is linked to the wine history of the region. It turns out that Cogolludo land was the second most important wine region in Spain, after Rioja, for Tempranillo production before Phylloxera arrived in Spain in 1870.
Fuentes Rodríguez was looking for the perfect terroir to plant and produce high-quality Tempranillo-based wines. After thorough consideration, he decided to buy 1 hectare in the area to plant Tempranillo vines in 1998. Four years later he planted 41 extra hectares of vines, including Tempranillo, Merlot, Cabernet Sauvignon, Syrah and Gewürztraminer.
This area has different types of soils, very poor in nutrients, but its main competitive advantage compared to other Spanish wine regions is its altitude. Indeed, 1,000 meters altitude gives the vines the opportunity to benefit from a good temperature range between day and night permitting grapes to further concentrate flavours and tannins while keeping high acidity levels.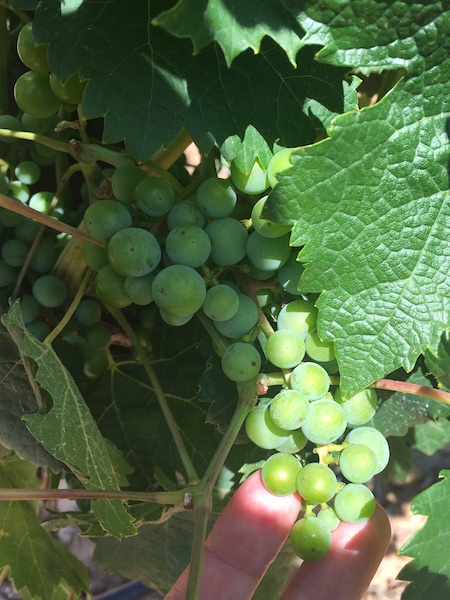 An awesome landscape for a winery tour
Gorgeous views of vines surrounded by forests of pines, holm oak and picturesque rolling hills. We could not ask for more! Well, yes! Maybe we still wanted to see some deers and we did!  The nature here is really exuberant and makes your winery visit unforgettable.
For the second part of the winery tour, we walked around and through the vineyard. In addition, we could appreciate the grape growing-process and watched the different parcels of Tempranillo, Cabernet Sauvignon, Syrah, Merlot and Gewürztraminer.
This is why visiting the vineyard itself should always be part of a winery tour. Otherwise it is impossible to discover the vine growing process which is crucial to produce high-quality wines. The soil, the grapes, the microclimate -definitely the terroir- make the difference when it comes to wine, not to mention the beauty and how our senses are enhanced when admiring vine landscapes.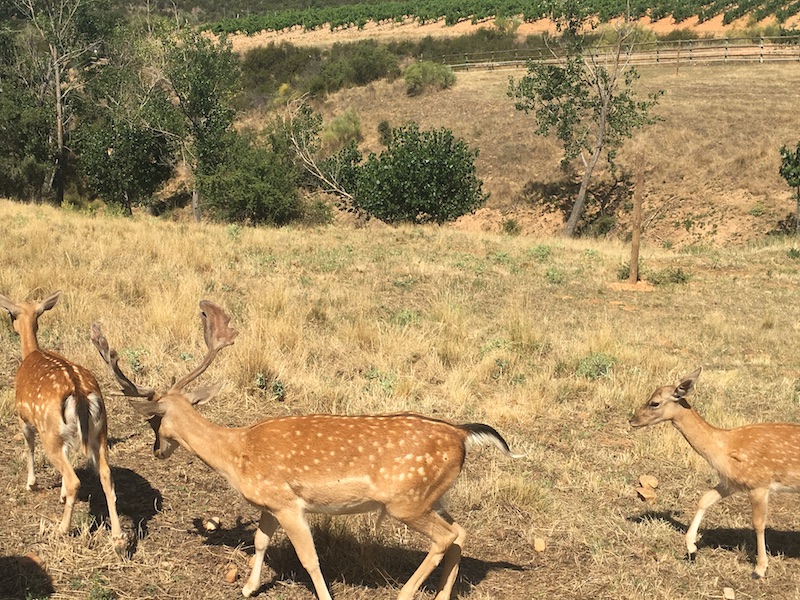 Winemaking style and process
Grapes are hand-harvested in 18-20 Kgs boxes. Cold maceration is used before undergoing fermentation at a temperature ranging between 18 and 24C. Thereafter, Malolactic Fermentation is also applied to the must in order to soften the tannins.
Red wines are aged in oak barrels. Both French and American oak are used for the ageing process depending on each wine and the coupage used for each of them.
Gewürztraminer grapes are fermented in stainless steel tanks to preserve the amazing aromatic potential of this grape variety.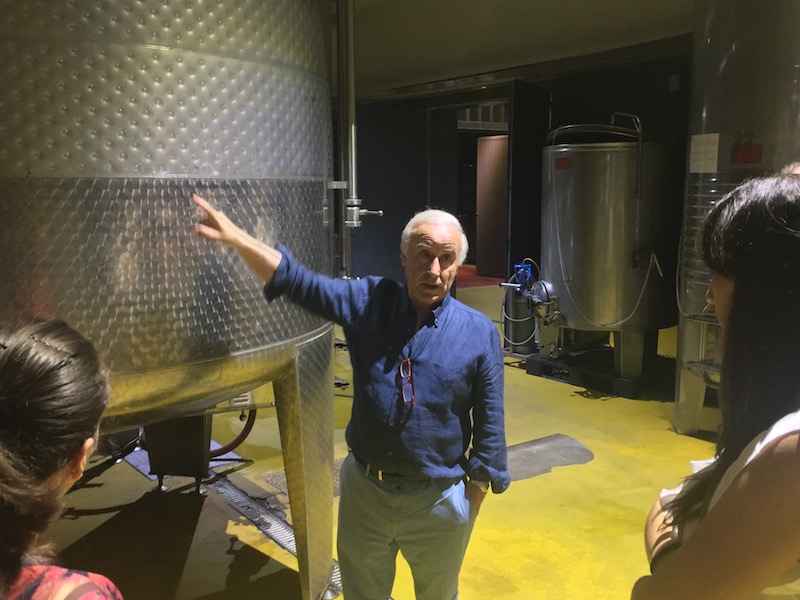 Wines with character and their food pairing
The winery tour ended with a fabulous wine tasting in a beautiful cellar room. We tasted 3 wines that we also paired with delicious tapas prepared for the occasion.
Gewürztraminer, the Golden Star! 
White wine highly aromatic with gold reflections. On the nose hints of jasmine, orange blossom and lychees. In the mouth unexpectedly dry with a pleasant bitter aftertaste. Definitely a different but nicely crafted kind of Gewürztraminer, worth a try! Splendid with goat cheese and Roquefort.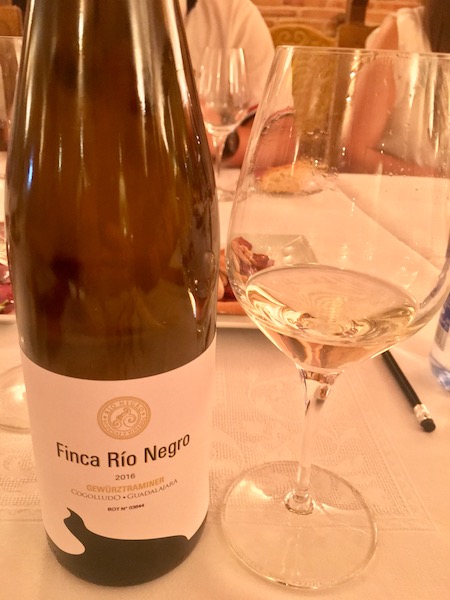 2. 992, a red wine with altitude!
992 is the altitude at which vines are planted. A coupage made from 85% Tempranillo and 15% Syrah. Plenty of red berries on the nose with a touch of violets. In the mouth the wine is fresh but robust at the same time. Tannins are bold and very present. Therefore, it matches well dried meat.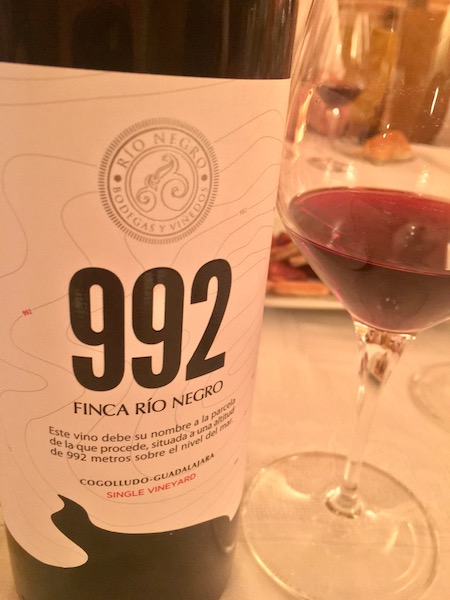 3. Finca Río Negro, juicy and tasty. 
Red wine having spent 18 months in oak barrels and 3 years in the bottle before release. Four grape varieties are used in this coupage: Tempranillo, Cabernet Sauvignon, Merlot and Syrah. Cassis marmalade, balsamic notes and black pepper for a complex and bold wine. Structured, full-bodied and juicy. As a result, it tastes gloriously good with a bit of chorizo!
If you are fond of a winery visit like this one, you can find our winery tours details here!
See you around beautiful Spanish vineyards!