The wine tour at Bodegas Osborne is really illustrative and informative about Sherry and its method of production. Located in El Puerto de Santa María, the bodega has been making wine since 1772. 
We started our tour with an explanation of the art of "venenciar", the way in which the oenologist taste Fino Sherry from the centre of the boot during the process of the biological ageing in order to keep the "flor" by making a very tiny hole for a fraction of a second to extract some wine that he will then taste in order to assess the quality and the advancement of the ageing process.
Thereafter, we entered the bodega, built in a "cathedral-style" architecture with an obscure and humid atmosphere where boots are piled following the long tradition of "soleras" and "criaderas". The temperature needs to be kept fresh during the long and very hot summers in the area, so this explains the high ceilings and dark walls –avoiding to repaint them in white to evade the solar reflection–.
In this setting, the production method explanation began; a bit of a technical and complex process which our guide summed up clearly and very well!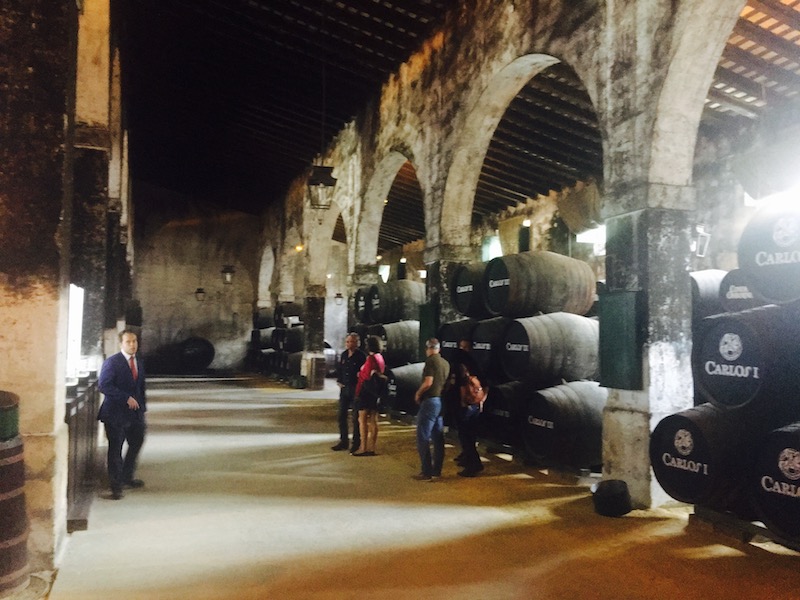 Bodegas Osborne main Sherry facts in a few words
The bodega contains 635 boots
Boots are made using American cedar and last up to 100 years. During the first 20 years they are used to produce wine, then to produce Brandy for over 25-30 years and the rest of the time to age other spirits such as Rum and Whisky.
Sherry wines are primarily made from Palomino Fino, an indigenous grape variety originary from this Spanish region and also using Pedro Ximénez –which is used to elaborate the sweetest version of Sherries, known and classified using also the name of "Pedro Ximénez"
The must ages for 10 years in the boots before deciding if this will be used to produce Fino, Oloroso, Amontillado or Palo Cortado (the several kinds of Sherry)
In order to make Fino, the wine is fortified to reach 15% ABV; then the "flor" (a thin layer of yeast cells which appeared on top of the wine inside the cask) is formed and biological ageing begins
Oloroso is made in the absence of flor, by applying the oxidative ageing process. The wine is fortified up to 20%
Amontillado is a mix between Fino and Oloroso. It is made using the two methods: biological and oxidative ageing processes. The wine is fortified up to 17% ABV to kill the flor, which can only live in wine with 15% ABV.
Palo Cortado is the rarest of Sherries since here the biological ageing process is interrupted naturally and this originates a wine with different organoleptic characteristics
The VORS (Very Old Rare Sherry) remains in the boots at least 30 years for ageing and only 1,200 bottles are made
Pedro Ximénez is made using PX grapes. They are dried in the sun for around 10 days to concentrate the sugars in order to obtain a sweet wine which is then fortified and aged in soleras.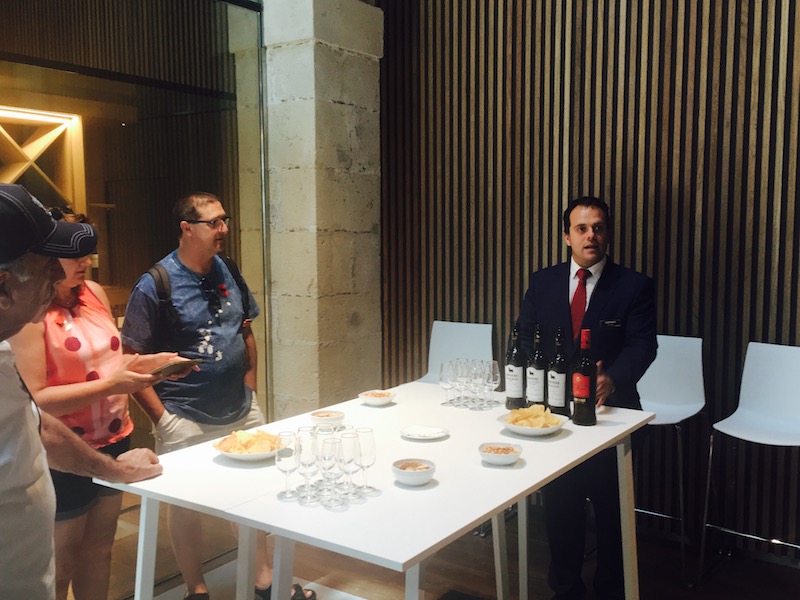 Sherry tasting experience
We finished our visit with a glorious Sherry tasting including four wines:
1. Fino Quinta Osborne
Very dry while elegant and refined; a delicious version of Fino surrounded by matured yeast hints, chamomile and almonds on the nose with delicate lemon peel, herbal tea and notes of bitter green olives in the mouth. Ideal to pair a delicious Iberian Ham, such as Cinco Jotas also produced by the Osborne Group.
2. Osborne Bailen Oloroso
A dry and complex Sherry with notes of vanilla and hazelnuts on the nose; roasted coffee and cedar in the mouth and a persistent finish. Fabulous to match stews and game meat.
3. Osborne Santa María Cream
A sweet and smooth version of Sherry showcasing a variety of dried fruits such as dates and confit oranges; a perfect balance between sweetness and acidity with a lingering finish. Ideal to match Roquefort and Blue cheeses.
4. Osborne Pedro Ximénez 1827
A dessert wine, very sweet although its high acidity makes it very palatable. Complex and full-bodied with notes of sultanas and dried prunes. Great as the dessert of a delicious meal.
Definitely, a bodega worth visiting!