Embarking on a wine holiday in Spain is a dream come true for wine enthusiasts and travel lovers alike. Whether you are exploring the prestigious wine regions of Ribera del Duero, the rustic charm of Rías Baixas, or the gems of La Mancha, Spain with its rich heritage, diverse wine regions, and breathtaking landscapes offers an unparalleled wine experience.
After a season of hard work or on a celebratory occasion, a well-deserved vacation accompanied by wines seems ideal. However, embarking on the preparation of a new journey without knowing where to start or without having much needed time to plan can sometimes be overwhelming.
That is why we propose a guide to help you. This way you will be able to embrace the local culture, indulge in regional cuisine, and bring home wonderful memories of your remarkable and unforgettable Spanish wine adventure.
1. Pick the wine region you want to visit and do the homework:  
There are several aspects you need to consider when choosing your next destination for your wine holiday in Spain. Depending on the season and the area of Spain you would like to visit, look for the best wine region options nearby.
Prior to your trip, it's advisable to conduct research on the specific area you plan to visit, and the wine styles produced in that specific wine area to see if they match your wine preferences.
Let's say you love bold reds, Ribera del Duero or Jumilla could be excellent choices. However, the selection would also depend on the city you are traveling to. To reach Ribera del Duero, you would need to land in Madrid and drive from there, whereas to go to Jumilla you can either fly to Valencia/Alicante or take a fast train from Madrid and then explore the wineries by car.
You need to take into account the following: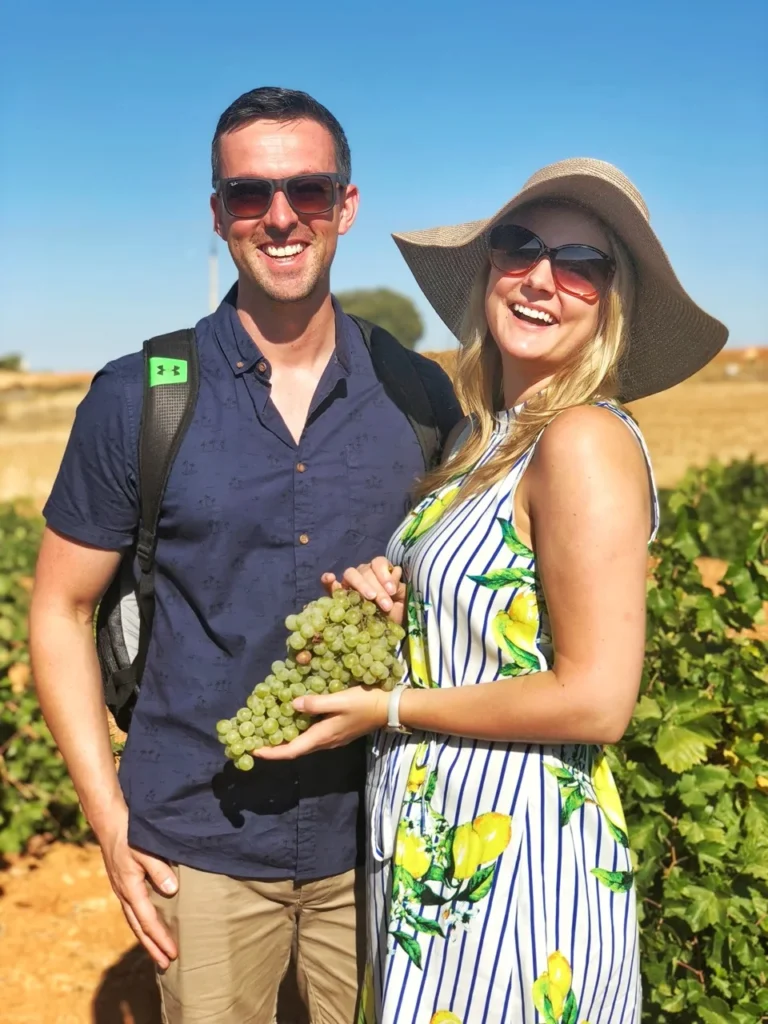 The main city you are traveling to (or decide on the city you are flying to depending on the wine region you have picked).
The choice of the wine area depending on the best season to travel to that specific wine region.
Your wine palate and the wine style you love the most. So, you can pick a wine region accordingly even if you have not tried its wines before.
You can also rely on a wine expert or wine travel advisor to choose the best options for you.
2. Decide on the duration of your wine holiday in Spain:
Determine how much time you want to spend on your wine holiday in Spain. Spain has plenty to offer in terms of wineries, vineyards, and other attractions, so consider allocating at least a week to explore the different regions and wineries. Understanding how long you will be there helps you allocate sufficient time to visit the places you are interested in without feeling rushed.
3. Define the budget:
Wine trips can vary significantly in cost, depending on factors such as transportation, accommodation, dining, wine tastings, and additional activities. Setting a budget enables you to prioritize and make informed decisions.
4. Define the kind of wine trip you would like to do:
Decide if you rather invest your time mainly visiting wineries or if you would like to do a mix between wine tours, cultural heritage, and sightseeing. This will allow you to find the right balance that suits your travel expectations.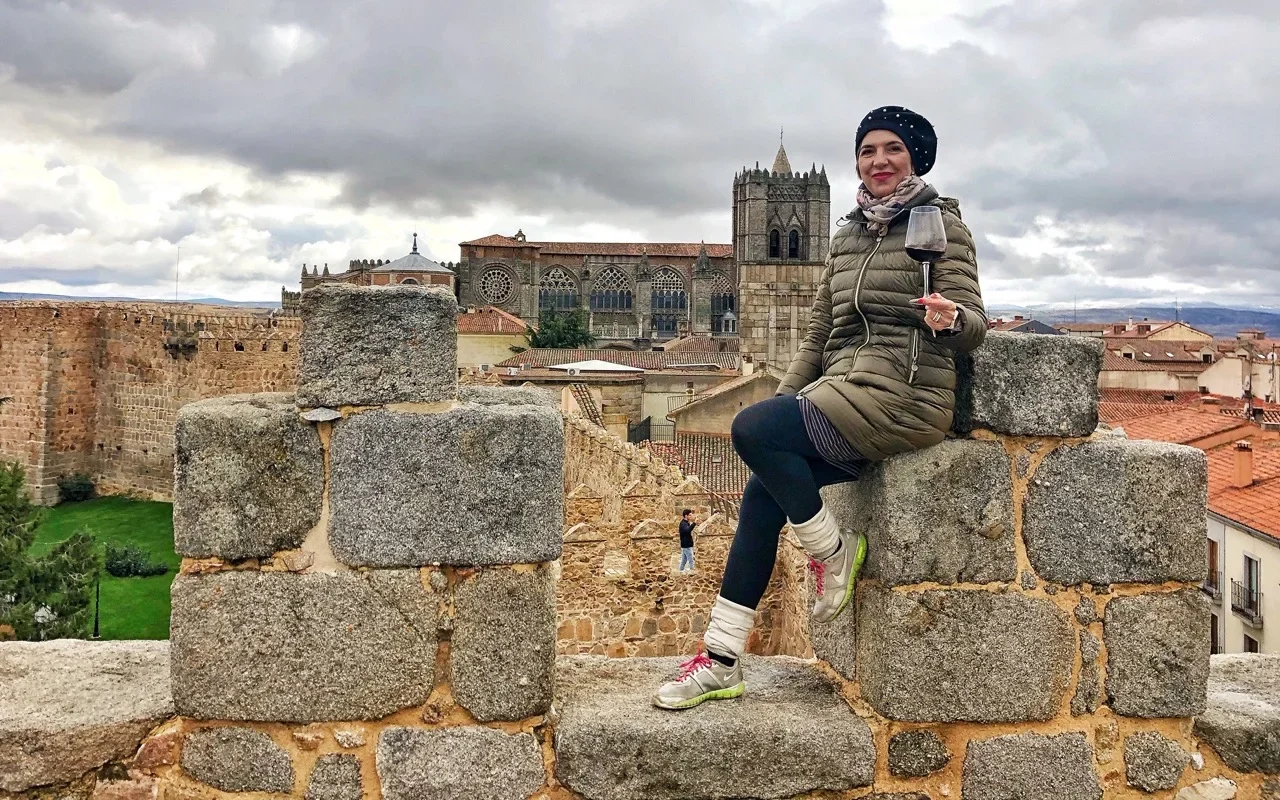 5. Book winery visits in advance:
Wine regions can get busy, especially during peak tourist seasons. Make sure to make arrangements well in advance to secure the best options. Some wineries may require advance booking, particularly if they are small or boutique establishments. Another option for you, would be to rely on a wine travel agent to take care of it.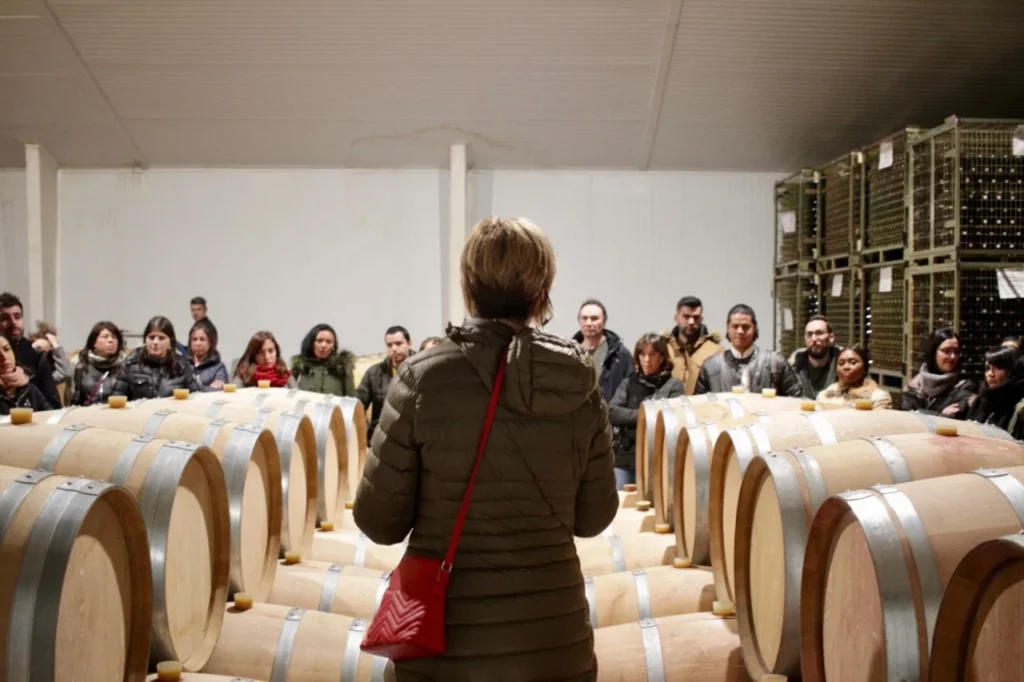 6. Tour 2 or 3 wineries a day:
You should consider limiting your winery visits to maximum 3 per day during a wine holiday in Spain for the following reasons:
Enjoyment and Appreciation: You will be able to fully immerse yourself in the wine experience. You can take your time to explore the vineyards, learn about the winemaking process, and engage in conversations with wine experts. Trying to fit in too many winery visits in a single day can lead to rushed experiences and diminish the quality of the visits.
Spanish Lunch Tradition: One of the defining characteristics of Spanish dining culture is the tradition of having lunch at a later hour and over an extended period. Moreover, many restaurants offer meals that can be quite substantial and that may leave you feeling too full and potentially affect your ability to fully appreciate the wines and wine tasting experiences later in the day. Visiting wineries in the morning ensures that you can fully enjoy the wine tasting experiences.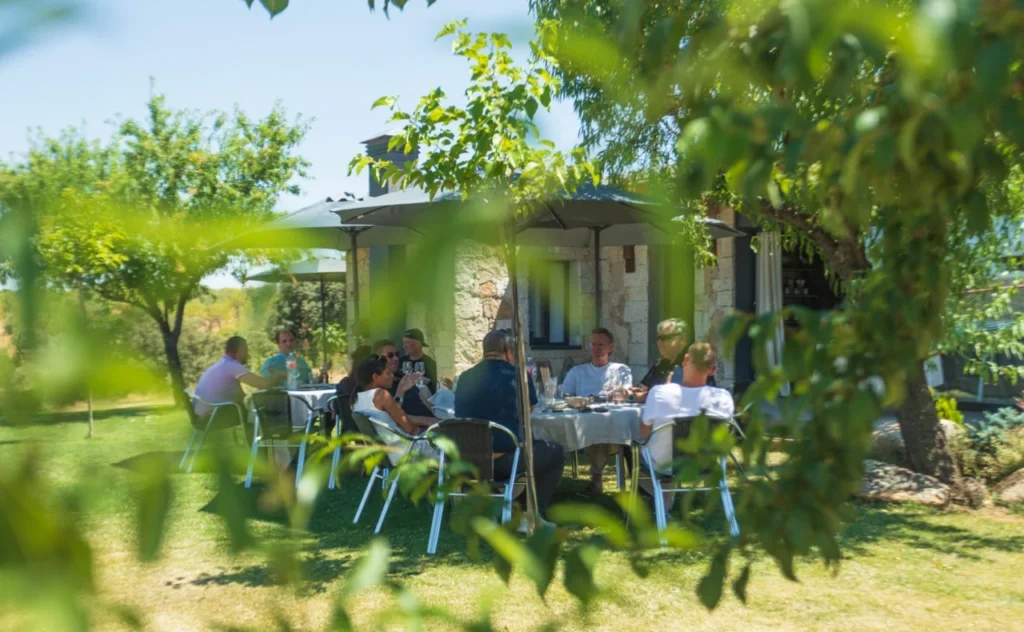 7. Consider Transportation options during your wine vacation in Spain: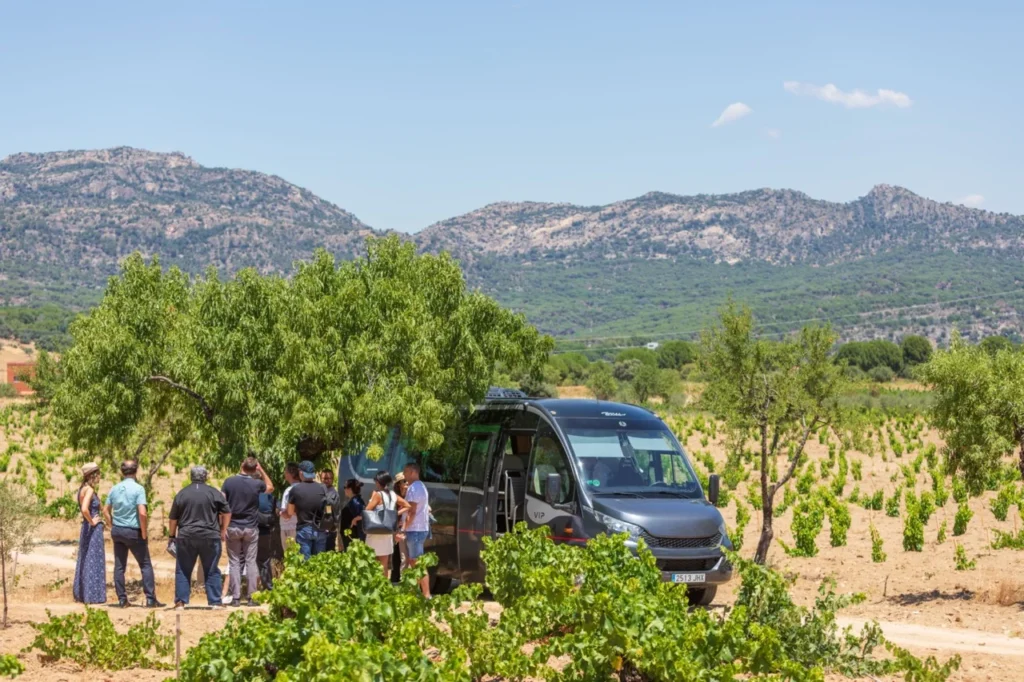 Considering options such as hiring a driver, joining a private wine tour, or selecting small-sized group winery visits ensures seamless and enjoyable wine tasting experiences during the day. This allows you to fully immerse yourself in the wine tastings without concerns.
8. Look for the best wine experiences:
In addition to visiting wineries, there are numerous enriching activities to enhance your understanding and appreciation of Spanish wines and traditions: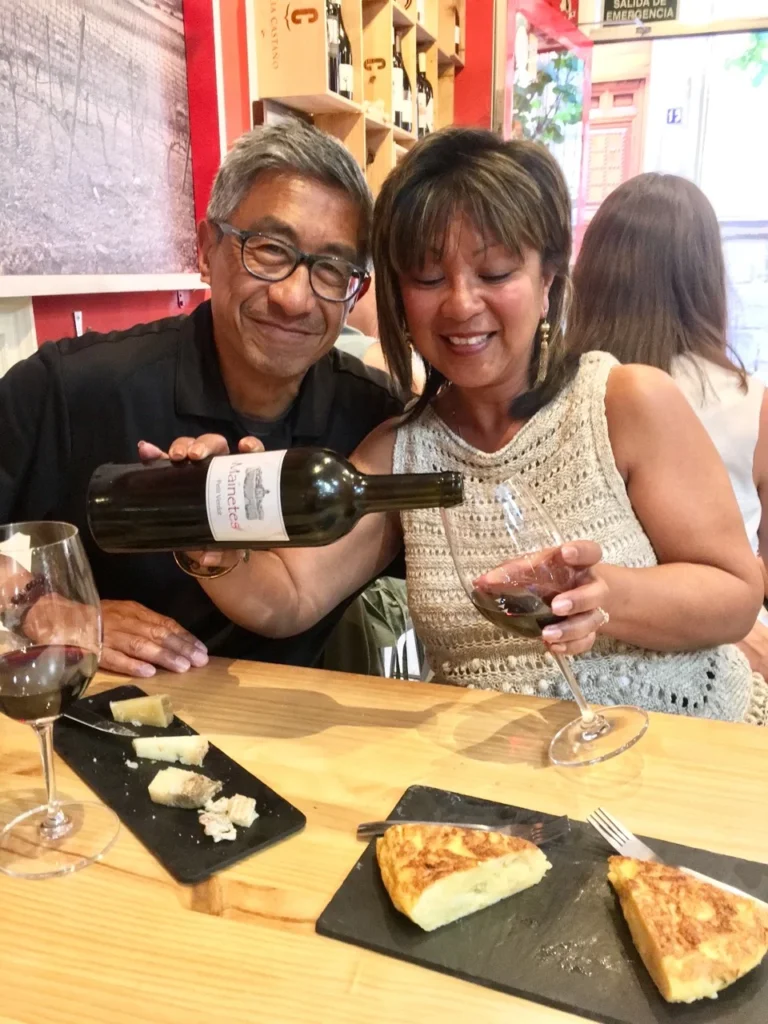 Attend wine festivals and fairs that offer a blend of fun and wine culture. Immerse yourself in the vibrant atmosphere.
Participate in vineyard walks to witness the beauty of the vineyards and learn about grape growing techniques.
Engage in hands-on activities like being part of the harvest process or experiencing vine pruning, which provide a deeper insight into the transformation of grapes into remarkable wines and a unique opportunity to witness winemaking in action
For food enthusiasts, indulge in wine pairing experiences offered by several wineries, where you can savor the perfect marriage of flavors.
9. Read winery and wine tours reviews:
Reviews provide valuable insights and firsthand experiences from fellow travelers who have visited these wineries and participated in the tours. By reading reviews, you can gather information about the quality of wines, the professionalism of the staff, the ambiance of the winery, and the overall experience. This helps you make informed decisions and select wineries and tours that align with your preferences and expectations. You can also discover hidden gems and lesser-known wineries that might not be as popular but offer exceptional wine and unique experiences.
10. Indulge in Regional Cuisine that matches the Spanish wines of the area:
Pairing wine with local cuisine is an integral part of the wine holiday experience. Spain is renowned for its diverse culinary traditions, so make sure to indulge in regional dishes that perfectly complement the wines you are tasting. (If you are in Madrid at some point you can also give a try to our wine tasting and tapas tour)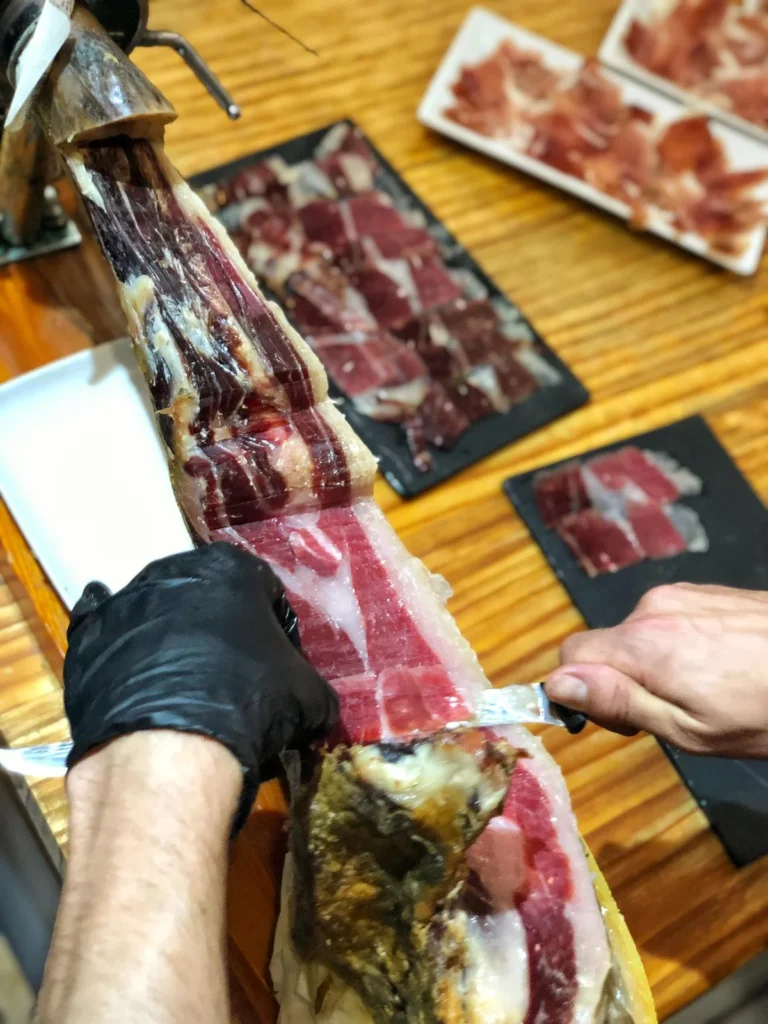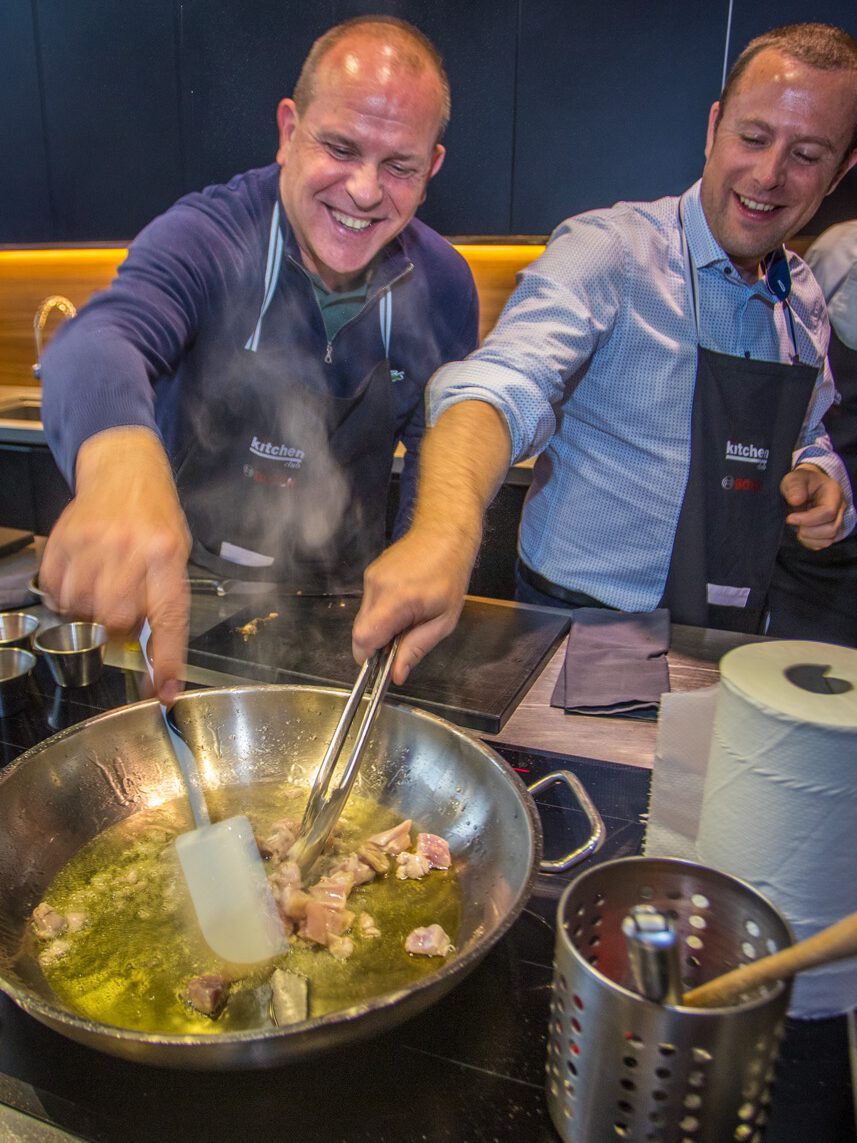 11. The perfect outfit while in the vineyard:
The perfect outfit while visiting a vineyard strikes a balance between comfort, style, and practicality. Opt for clothing that allows for ease of movement, such as lightweight, breathable fabrics like linen or cotton.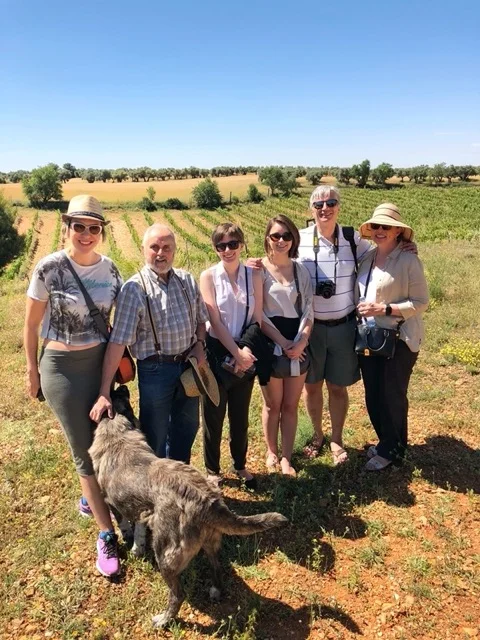 Consider wearing comfortable shoes, like flats or low-heeled sandals, as vineyards often involve walking on uneven terrain.
A sun hat or sunglasses can provide protection from the sun, and layering options like a light sweater or jacket are useful for changing weather conditions or cool cellars.
Hands-free and small bag: during a wine experience, you will often be on the move exploring the premises or will be required to hold glasses of wines, brochures or accompanying food of the pairing such as cheese or chocolate.
Avoid wearing perfumes that may interfere with wine tasting experience
12. Consider hiring a wine travel specialist or booking a private wine tour:
If you want to enhance your wine experience and gain deeper insights into the local wine culture, consider hiring a wine travel designer who can arrange exclusive experiences and help you navigate the wine regions. Similarly, you could also rely on a knowledgeable wine guide who can provide expert guidance during the wine tour.
If you want us to take care of your next Spanish wine adventure, please keep in touch.