For food and wine experiences Spain is undoubtedly the go to country! Discover the unexpected origins of Spanish tapas, the art of pairing tapas with the best Spanish wines across vibrant regions of the country and dive into Madrid culinary delights.
Join us for a journey of culinary flavors, traditions, and unforgettable wine tastings!
What is a tapa and how is it related to wine?
Origins of the word "tapa"
The word "tapa" has now an everyday usage throughout Spain and is even used internationally.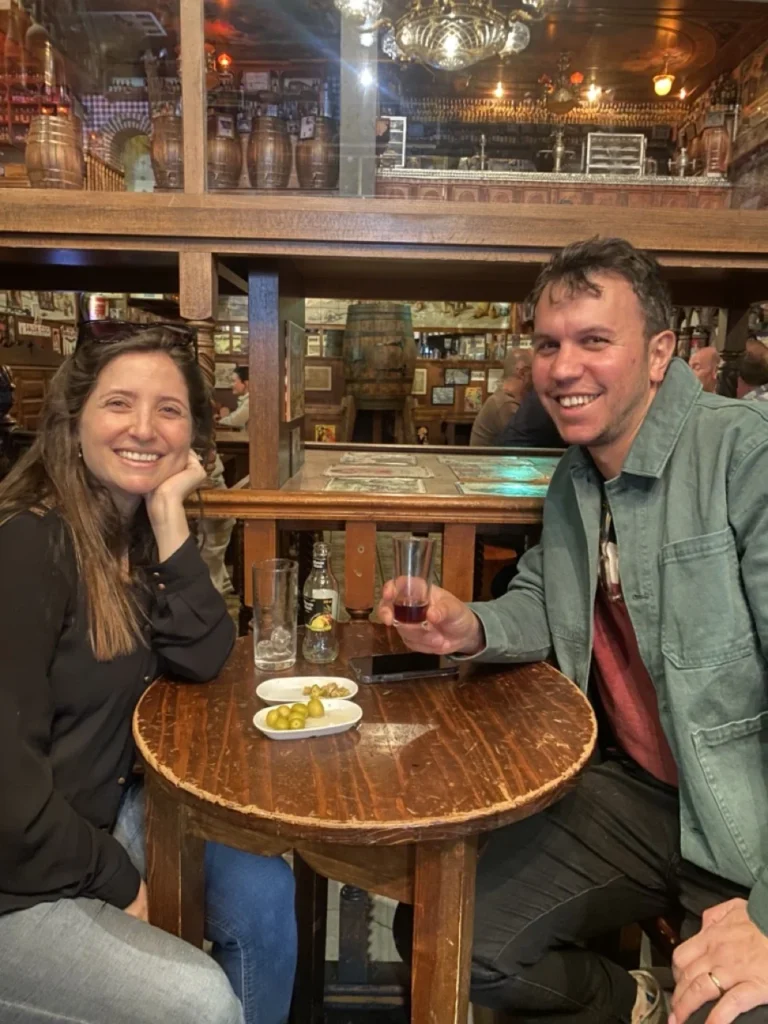 Although there is debate surrounding the first coining of this term, most versions agree that we can trace its origins back to the region of Andalusia, South of Spain. According to rumors, it took place in Cádiz when King Alfonso XIII was visiting. During one of his routine breaks, the king requested a glass of Sherry wine. The wind was blowing strongly that day, and the waiter in charge of serving the glass, fearing that the wine would be filled with sand, placed a slice of ham on top of the glass as a "tapa" (which means cover). The King liked the idea so much that he requested the following wines with the same "tapa" for the glass.
Another more practical option involves going back to the 13th century, during the reign of Alfonso X, when people placed small portions of food on the wine glass to cover its mouth, thus preventing mosquitoes from entering.
Furthermore, a version regarding the origin of tapas is related to an increase of accidents during the reign of the Catholic Monarchs. To prevent the drunken state of some carters, authorities obliged tavern keepers to 'cover' the drinks they served with a plate of food, making it impossible to consume alcohol without eating something first. Thus, impromptu wine and tapa pairings started taking place.
The real meaning of the word tapa in Spain
The ingredients included in Spanish tapas can be infinite, not only due to the enormous variety of culinary dishes of the Spanish gastronomy but also because it changes from region to region.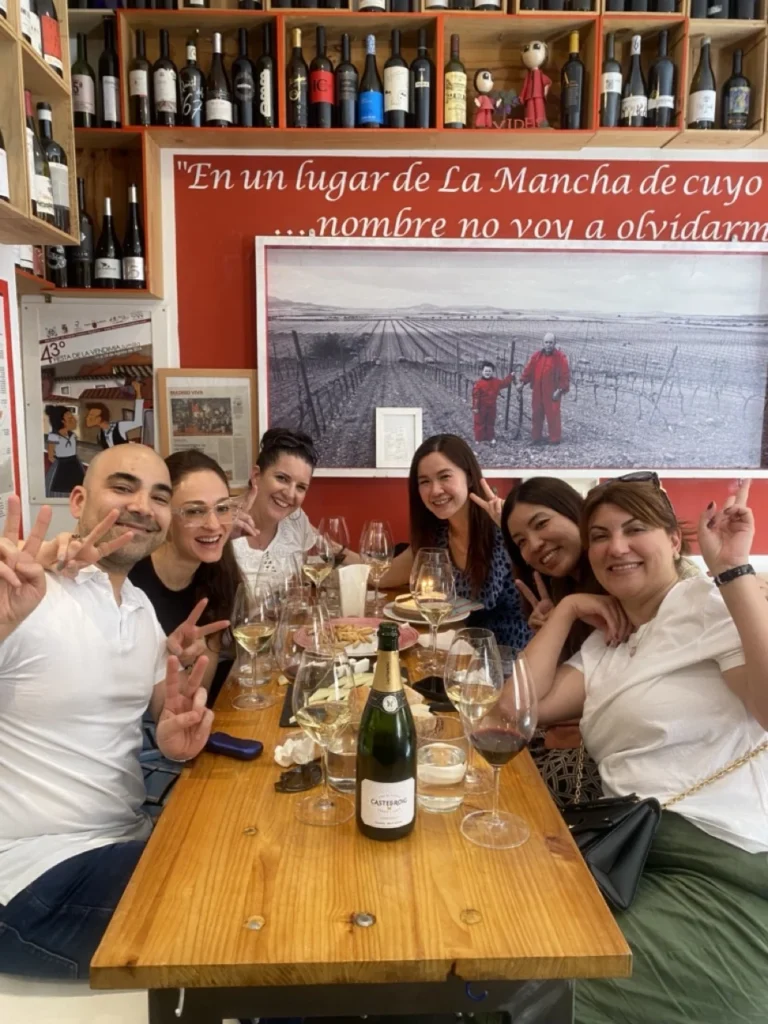 Although a tapa could easily be defined as a small portion of food which is served as a side to a drink, it actually has a lot more meaning to Spanish people in terms of tradition. It can be done in the morning, at lunchtime, for dinner, as a snack, or for dinner. It can also be either standing at the bar or sitting down at a restaurant. Basically, it is about a joyful experience.
"Tapeo" which is the action of going to eat tapas while having drinks is usually done in good company such as with your group of friends. Is there a better way to spend time than with a tasty wine, a delicious tapa, and the company of friends? In Spain, they are certain there is not, which is why the tapa culture is almost a way of life for them.
This tradition that originated in the South has spread and become one of the defining characteristics of our country. However, as we were mentioning before, each region has its own unique touch when it comes to pairing premium tapas with wine.
Tapas in Madrid
The tradition of tapas in Madrid
Madrid is emblematic when it comes to the history and tradition of tapas. First and foremost, Madrid's central location and role as a cultural and political hub facilitated the exchange of ideas and gastronomic traditions from different regions of Spain. As the capital city, it has always been a melting pot of cultures, attracting people from all over those regions of Spain. This diversity contributed to the fusion and evolution of tapas, as different culinary traditions and flavors merged in Madrid.
During the 19th century, the concept of tapas became more prevalent in Madrid. It was common for workers and locals to stop by taverns and enjoy small plates of food as a snack or appetizer. Tapas were often simple and rustic.
Towards the end of 20th century, Madrid experienced a surge in the popularity of tapas. The city's vibrant nightlife and social scene further popularized the tradition of going from bar to bar, sampling different tapas along the way. This practice of "tapeo," became an integral part of Madrid's social culture.
What is truly important to know is that now, in most places found in the city of Madrid, when you order a glass of wine or a beer, they will give you a tapa (included in the price of the drink alone). This phenomenon does not always take place in all the territory of Spain.
Origin and Curiosities of Madrid's Most Iconic Tapas
Madrid-style Tripe Stew (Callos a la Madrileña)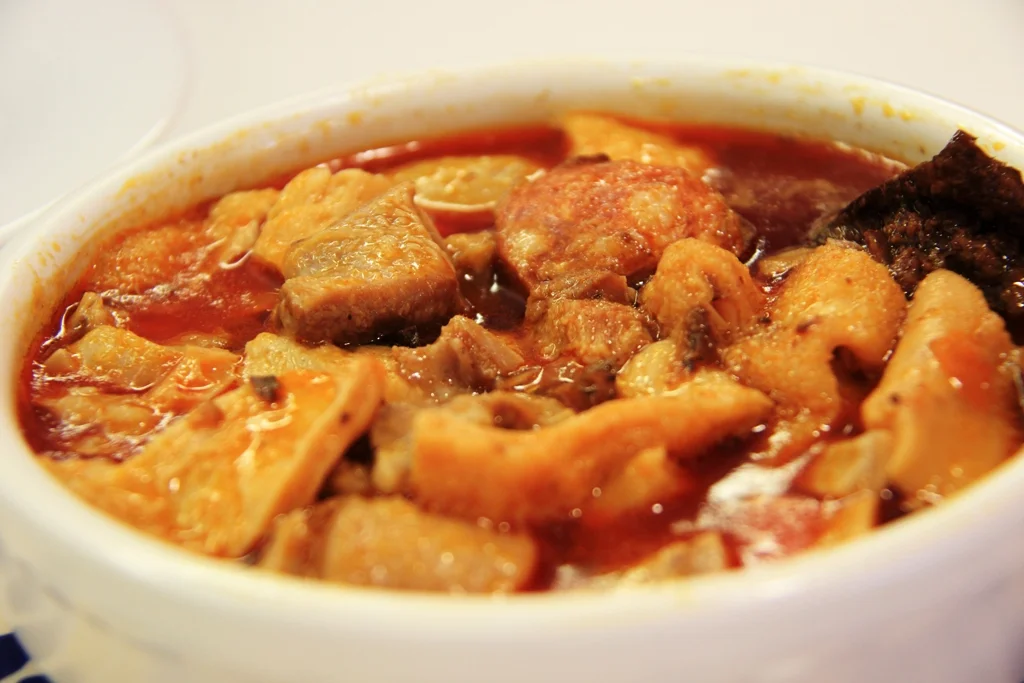 The earliest references to this dish can be found in a 15th-century work by Enrique de Villena. This was a typical dish due to its affordability and energy content. The word "callo" refers to pieces of cow, veal, or lamb stomach. n the late 16th century, the city center served hundreds of plates of tripe stew accompanied, if lucky, with chorizo, blood sausage, or ham. In the 19th century, it made its way to some of the most prestigious restaurants.
Spicy Potatoes (Patatas Bravas)
In the 1960s, legendary queues formed at the doors of Casa Pellico and Bar La Casona, competing for the honor of having invented this dish. Today, both iconic establishments have closed, but you can find a serving of patatas bravas wherever you go in Madrid. The most curious thing is that they will always be and taste different. Some of these establishments keep the bravas sauce as a top secret formula.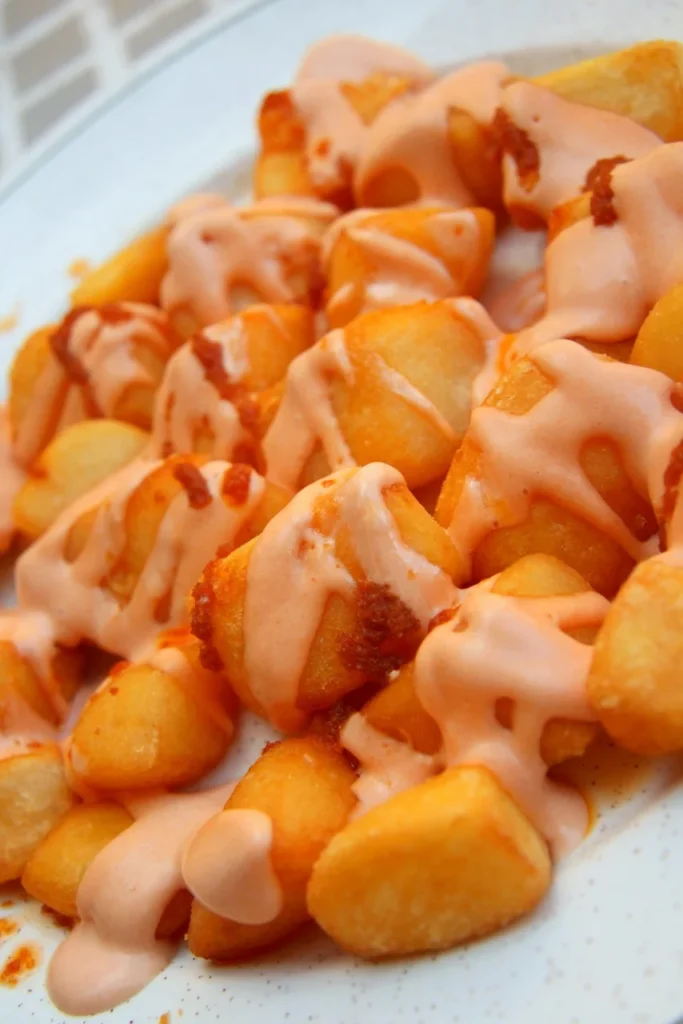 Squid Sandwich (Bocadillo de Calamares)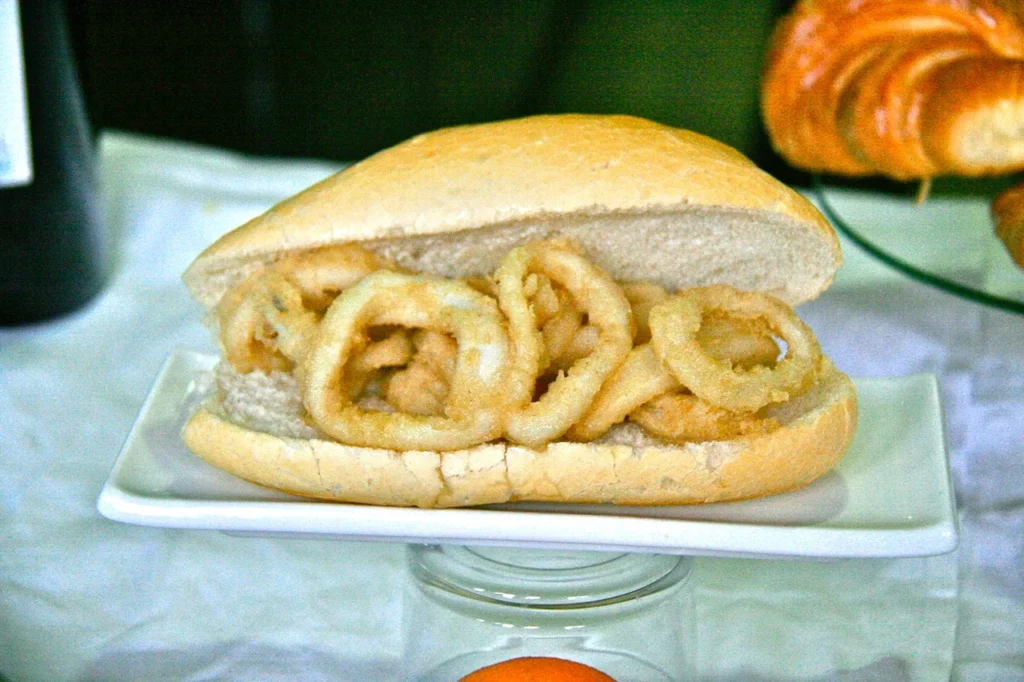 In the 16th century, fish arrived in Madrid packed in large blocks of ice, but it wasn't until the arrival of the railroad in the mid-19th century that the coast came closer to Madrid, ensuring the fish arrived in good condition. During this time, everything Andalusian also became fashionable in the capital: fried fish, flamenco, and fortified wine. The calamari took the form of a sandwich, providing a cheap and delicious meal that provided enough energy for the hard workers.
Madrid-style Snails (Caracoles a la Madrileña)
Their abundance in the vicinity of Madrid led to the proliferation of stalls offering this dish at a very affordable price. By the early 20th century, taverns started serving them as tapas and larger portions because they had become such a prized dish.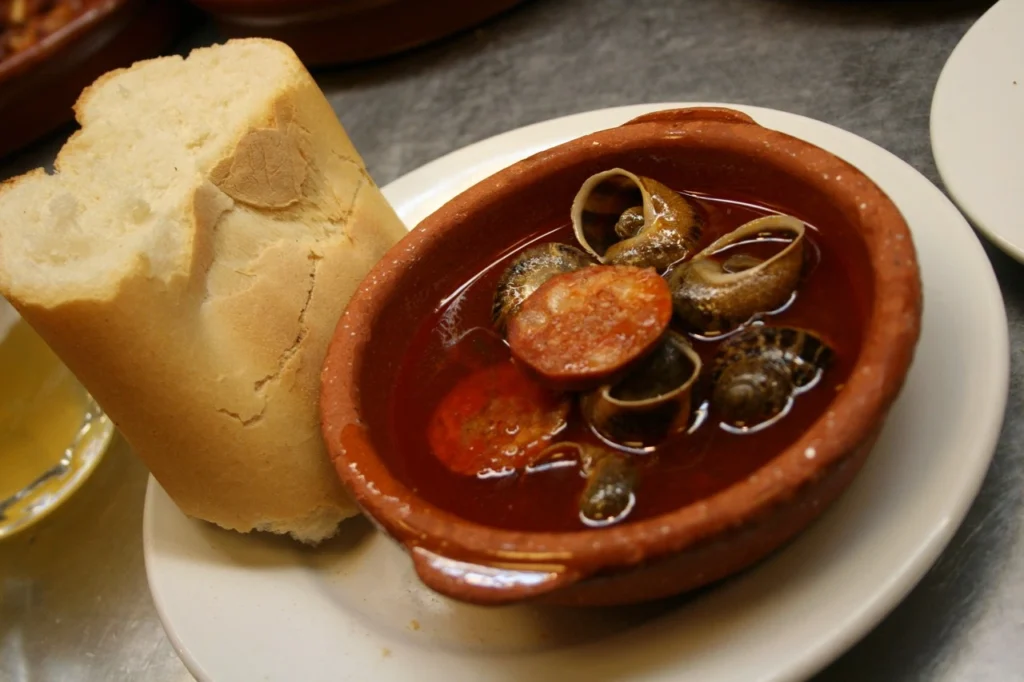 Experience a premium tapas and wine pairing in Madrid
If this article is enticing you to discover wonderful Spanish tapas and wines while visiting historic taverns and trendy wine bars in the city of Madrid, you should definitely try our wine and tapas tour in Madrid:
Our private wine tour includes tasting of Spanish traditional tapas such as Spanish omelette, Spanish 100% acorn fed Iberian ham and other exquisite gastronomic dishes paired with premium Spanish wines. See a sneak peek through our previous clients of what a Spanish wine and tapas tour in Madrid looks like:
Iconic places for tapas and wine tours in Madrid
Madrid in recent years has become a whirlwind of the culinary scene and finds itself having a continuous evolution. You can find diverse options such as bars, taverns, and restaurants to experience the best tapas and wines of Madrid.
In such a big city it is easy to get lost and know where to go which is why we can summarize a bit the most iconic tapas areas of Madrid:
Plaza Mayor: in the middle of Madrid's historic area and where it is a must to try the calamari sandwich.
Huertas (also Barrio de las Letras): In the city center, this area is renowned for its literary history and lively nightlife. Huertas and its surrounding streets offer a great variety of traditional tapas and wine bars where you can savor classic Spain.
La Latina: This historic neighborhood is famous for its lively tapas scene, particularly around Cava Baja and Cava Alta. It offers a wide range of traditional tapas bars and restaurants where you can enjoy delicious bites along with a vibrant atmosphere and delicious wines.
Malasaña: Known for its trendy and alternative vibe, Malasaña is home to numerous bars and eateries that offer creative and modern tapas. It is easily recognizable, especially because, regardless of the week day, many people gather around in the area for wine and tapas hopping.
Chamberí: The Chamberí neighborhood is characteristic for having quality restaurants and bars. In recent years, this has grown steadily, making it one of the favorite places for Madrileños to enjoy tapas paired with wine.
Las Ventas and Manuel Becerra: In the surroundings of the bullring of Las Ventas, taverns take center stage, where enjoying a bull's tail or an ear becomes an authentic experience.
Tapas and wine pairings in Spain by region
If you want to fully enjoy unique delicious tapas in Spain there is a golden rule you must keep in mind: wines from the region pair very well with the local food.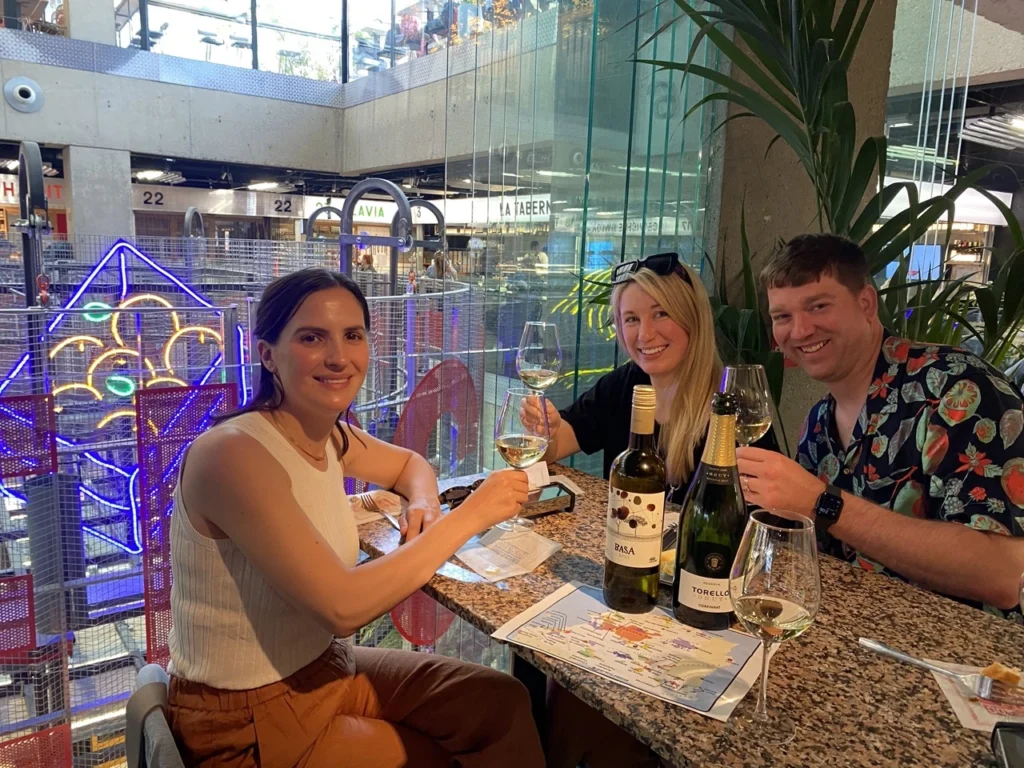 See the following examples on the best way to pair wine and tapas depending on the Spanish wine region. You can also experience them during our Private wine and food experiences.
Madrid: Combine the typical calamari sandwich with an exquisite Gredos Garnacha Wine.
Penedés: Indulge with different kinds of Spanish cheeses from small farmers or local cheesemakers while sipping on fantastic Cava or Corpinnat sparkling wine .
Galicia: Galician octopus or any other savory seafood dish is a match when it comes to an Albariño-based white wine from Rias Baixas or Treixadura native grape variety that you can find in Ribeiro designation of origin (D.O).
Jumilla: You should not miss the opportunity to taste 100% acorn fed Iberian ham with a red wine from Jumilla, made with fragrant Monastrell black grape.
Andalusia: In each of its subregions, you'll find succulent specialties always accompanied by abundant olive oil. For example, Sevillians prepare the historic "soldados de pavía," which are small pieces of cod coated in flour. In Granada, all bars in the province serve "patatas a lo pobre" for free, along with a glass of dry Muscat or Fino Sherry, for you to enjoy.
Cantabria: Its sea offers delicious products such as Santoña anchovies, northern bonito which is excellent in marmitako, and the popular sardines. You can try combining anchovies with a glass of Sherry Amontillado, a pure delight and must-try wine and food pairing!